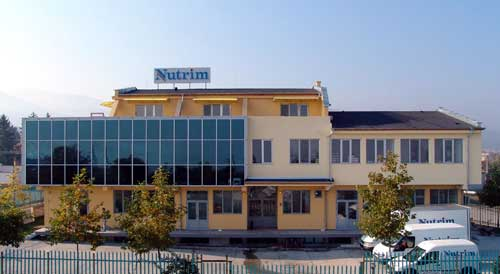 Nutrim LTD was established in 1993 and it specializes in the development and production of foods for prophylactic, balanced and health nutrition. A team of leading specialists in the field of nutrition is engaged in designing new formulas for optimal nutrition.
Nutrim LTD offers a wide variety of products, containing only natural components. Based on latest food technology they meet the standards set by the the respective authorities of the European Union. They are permitted by the Bulgarian Ministry of Health. Nutrim also holds patents, issued by the Bulgarian Patent Agency.
Nutrim's products are safe with excellent taste and appearance. Their composition is adjusted to meet the requirements of the international agencies and institutions authorized to deal with problems in the field of human nutrition and food safety.
Nutrim produces an unrivalled successful range of products and supplements for athletes. The company also produces specialized food formulas for patients on enteral feeding and for patients with kidney, liver disorders, diabetes etc.
Nutrim provides expert evaluation and counseling in the field of industrial toxins and the problems of prophylactic nutrition. More than 30 foods and beverages can be found on Nutrim's production list and all of them are highly appreciated by the consumers.
The results of the products' clinical trials are published in many national and international scientific journals.